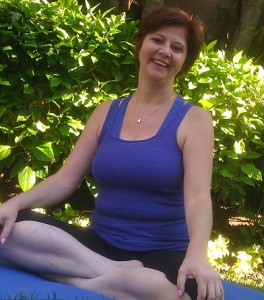 This Week's Goal: Move it! No matter what business you're in, chances are you spend an inordinate amount of time sitting in front of the computer, working at your desk, attending meetings. See a theme? There's a lot of sitting going on!
Work time is important, obviously. Especially if you are spending your downtime on your passion projects – yes, most likely more time in front of a computer – all in the name of pursuing your dreams.
So, this week, I say get moving: go for a walk, enjoy a bike ride, join an athletic team, take an exercise class, or – my latest pursuit – do some internet yoga.
For those who work from home, we've previously talked about the need for separate workspace. So, it's not that much of a leap to unroll the yoga mat and create an exercise space in the general vicinity of your computer, is it?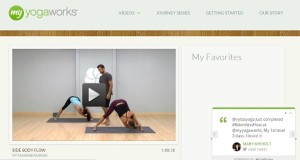 Disclosure: I received a free six-month trial of MyYogaWorks in exchange for an honest review. All thoughts and opinions are my own.
MyYogaWorks is the perfect option for busy entrepreneurs, writers, experts, etc., who want to get fit – or, in my case, centered – in, let's face it, an instant gratification sort of way.
You can access the site,  from your computer, tablet or smartphone. Where as the computer is easier to see the big picture, the mobile devices make it easier to keep track of the flow during sun salutations or in downward facing dog. I like the multiple options.
The site has short videos for positioning and mini yoga sessions, as well as super-long workouts. The search functionality makes it easy to find your level, length and focus. There are meditations, too, for whenever you need to just reboot. Whether you want stability and balance, mindful fitness, or relentless flow, there's everyone can fit into their schedule.
No matter what exercise you pursue, it's essential to workout your body, as well as your mind.
So, how will you move it this week?
* * *
Want to try MyYogaWorks? Use the code "Blogger14" to receive their first month of MyYogaWorks for $5.