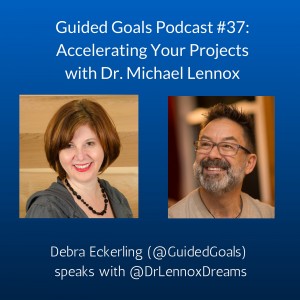 Dr Michael Lennox joins us on the Guided Goals Podcast, and we're going to talk about accelerating your projects
Michael is a spiritual teacher and author; psychologist, astrologer and internationally renowned expert on dreams and dream interpretation, he considers himself an ambassador to the unconscious mind.
Michael talks about ways to accelerate your projects, what to do when you can't move forward, and more.
Listen to Michael's previous podcast on creating the life you want.
The Energy
There comes a time when you need to step up your projects. Sometimes the universe helps a little and sometimes it helps a lot. Lately it has been the latter. When I ask Michael what is going on, he says this is why he was attracted to astrology 15-20 years ago. There are waves of energy that we all experience and share that astrology expresses. While everyone experiences this differently, the spring of 2016 is enormously accelerated.
If you are dialed into a certain type of project, you may start putting the pieces together and moving forward more rapidly than you would a season ago.
Writing
The mind is the part of our consciousness that does the writing. This is a challenge, because words come from the mind, and the mind is the part of our experience is most misleading and misguiding.
There are two ways to use the mind. On one side, there is sitting down and preparing to be creative. The mind is channeling your words – you are able to write. That is an individual experience of how someone uses their mind to create. No one can teach or guide that, you have to experience it for yourself.
The other side of the mind is everything you think about that process. So, if you are feeling crazy with all the energy regarding your project, the first thing you want to do is notice what you are saying to yourself about the energy. If you are telling yourself you are overwhelmed, you will be overwhelmed.
The way to get through all the chaotic energy is to sit down and write.
It's back to the idea that what you declare about the sensation is right. If you declare it's interfering, that's what will happen. Instead, reframe it as good energy. Don't try to plan ahead. Embrace it and write in the moment.
Focus
The best way to take advantage of these energies is to not focus on doing. Instead, focus on getting very still, so the energy can come through you in a channelled way. This is where meditation comes in. If you are not meditating in some fashion, you will be swept up into this energy. And this could just be taking a few deep breaths or grounding yourself to your chair.
By getting still, you align yourself with the energy of that expression. That includes marketing efforts, making connections, networking. Don't go into it from a chaotic place. Take a breath, meditate, quiet the mind, so you are moving a little slower. Pace.
Conscious Creation
Thinking through your day when you get up means you are consciously creating your day. Take a moment to use your mind and imagine what you will accomplish, and then accomplish that.
For those who aren't already doing this …
If you can create a todo list without self-loathing, do that. Michael knows of countless examples of people whose todo list is four lines greater than what is humanly possible. They are setting themselves up for failure. If you are doing that, throw the todo list away.
For others, the todo list is a conscious creation of the day's intention. Write down your intentions. Then, checking things off as you do them can be very satisfying.
In my coaching, I tell my client to put everything they want to do on their list.
What you're talking about is a mind dump, Michael says. By writing everything down, you are clearing your mind of the distraction energy in the background.
For that to be effective, you can't have that much attachment to getting everything done. If you have 25 things on your list and you accomplished 6 of them, that should be a good day. Don't get upset because you only accomplished 6.
For Those who Can't Accelerate
If you are having trouble moving forward on your projects, Michael says what comes to mind is, "Stop."
If you are habitually unable to get to something, Michael suggests taking a break. Take it off your plate, and see if it pulls you back to it.
This is why I always recommend people have an alpha and a beta project, in case they need a break from one, there's another in progress.
Ideas have a pace of their own. Fight the urge to control your ideas. Sometimes they just need a little time.
Resistance is still a big thing, Michael adds. You know have to do some self-investigation. There are people who want great things, but don't feel they deserve it. And that requires additional attention, If you don't feel you deserve success as an expresser, you will not be able to express.
Any other advice on acceleration
Enjoy it. There will always be contractions that come in time with expansions. And this is something you need to respect.
When the contraction occurs be mindful and don't think it's anything else. If you are being productive, and there is a shift and things slow down, don't think it's over. Instead, think, "Okay, I've got it." Slow down, accept the pace is slowing, and trust that another acceleration is coming.
It's not one step forward and two steps back. It's one step forward and then lean back.
Goal of the Week: Pace yourself.
Goal of the Week 2: Be good with the downtime.
Goal of the Week 3: Start your day with a todo list.
Goal of the Week 4: Visualize. Picture yourself accomplishing the todo list.
Want to learn more about accelerating your projects? Listen to the entire interview on iTunes or Stitcher.
Watch the video:

The Guided Goals Podcast gives you the tools, direction, and resources you need to pursue your passion project. Thanks for tuning in.
Subscribe on iTunes, Stitcher or SoundCloud, and leave a review.
* * *
About Debra: A project catalyst, Debra Eckerling works with individuals and small businesses to create a strategy, set goals and manage their projects. Follow Debra @GuidedGoals, Like Guided Goals on Facebook, Subscribe to YouTube.