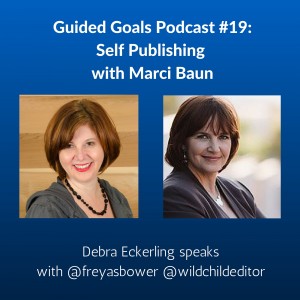 Are you considering self publishing?
Have you written a book?
Do you want to write a book to showcase your expertise?
Marci Baun joins us on the Guided Goals Podcast, and we're going to talk about self publishing. A writer, editor and publisher, Marci is the founder and CEO of Wild Child Publishing and Freya's Bower, and also helps authors self publish.
Marci talks about what you need to know to write, prep and self publish a book.
People choose to self publish for many reasons: you have more control, you can set your price, you can decide on distribution, and mostly so you don't have to wait many years to get an agent, find a publisher, and get released.
So many people have a lot of information to share, and this is an easy way to get it out there, Marci says.
The Importance of Quality
Marci says she recommended some to self-publish, who told her she didn't need an editor, because "I'm really good at English."
All writers need an editor. You are too close to it, and you can't see your own mistakes. Plus, editor will catch things, because they are coming from a different perspective.
Quality is hugely important. After all, some books are so bad, "free" isn't enough of an incentive.
To keep quality control, follow the steps of traditional publishing. Have someone edit and someone else proofread.
Tips for Writing a Book
First of all, decide what you want to focus on: why are you writing this book and who is your audience.
If you don't have a focus, you will jump around and there will be no common thread. Are you looking to inspire, to share your story in hopes of helping others, or show people how to do something?
Also, decide who is your audience, but don't hit broad, Marci says. It's better to limit you audience and expand it later on.
At some point you have to sit down and write. Set a certain amount of time a week for your sacred writing time. And get it done!
Book Length
Novels are at least 50,000 words; the average novel is 75,000. However, length depends on your topic.
Also, don't pad it, because people will know that you are padding it.
Marci says there was a point where book length (especially non-fiction) was 15 – 30,000, so people could read the book on their lunch break or on their commute.
Another option is to do tips books. If you are in the process of writing something longer, that is a good starter book for building your business.
Distribution
You can start by publishing on CreateSpace. Amazon owns Createspace, so if you do Createspace it automatically also goes on Amazon. Use the Amazon Kindle Direct Publishing program for your ebooks. (Note: KDP requests a 90-day exclusive for ebook distribution for authors to participate in the program,)
Marci says to make your self-published book available as much as possible. You can also distribute to iTunes, through B&N's Nook Press, Kobo, and Smashwords.
If you want to get a book into Barnes & Noble, you may want to go with Ingram Spark. This is a printing and distribution option.
Baker & Taylor is a distributor, but Marci says this is really just an option if you want to get your book in libraries. Also, be aware. The require authors pre-purchase a certain number of books (a lot) and they take a high percentage.
Additional Thoughts
Before you publish, you want your website set up and to be building a list. That way, you can let people know when your book is coming out and where to find you.
You have one chance to get people to notice you. You want to be memorable in a good way.
The average book sells less than 100 copies, regardless of how it's published, Marci says.
Building your list, knowing your audience, and reaching that audience is imperative.
Also realize, if you try one thing, stick with it for a while before you try something else. People need to see something an average of 12 times before they notice it.
Work/Life Balance
Marci sets a time to stop working, after a certain time of day. She does this unless she has a crunchtime/is in deadline mode. Having those boundaries helps with balance.
Personal Goal of the Week: Set a cut off time and see if it works. Adjust the time, until you find something managable with your schedule.
Professional Goal of the Week: If you are about to write a book, figure out what you are writing and for whom you are writing it. If you are in the process of writing take an inventory, re-evaluate it, and move forward.
Want to learn more about self publishing? Listen to the entire interview on iTunes or Stitcher.
Also, share the title of the book in progress or any links to your books in the comments.
Watch the video:

The Guided Goals Podcast gives you the tools, direction, and resources you need to pursue your passion project. Thanks for tuning in.
Subscribe on iTunes, Stitcher or SoundCloud, and leave a review.
* * *
About Debra: A project catalyst, Debra Eckerling works with individuals and small businesses to create a strategy, set goals and manage their projects. Follow Debra @GuidedGoals, Like Guided Goals on Facebook, Subscribe to YouTube.