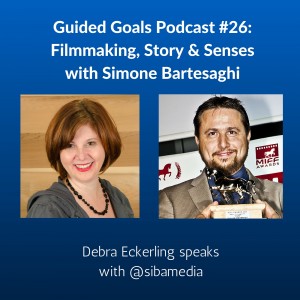 Are you tuned into your senses?
Need some inspiration?
Ready for a career reboot, perhaps?
Simone Bartesaghi joins us on the Guided Goals Podcast, and we're going to talk about filmmaking, story & senses. Simone is the author of The Director's Six Senses, and teaches filmmaking, directing, and screenwriting.
Simone is an Italian award-winning filmmaker who has been recognized by the Directors Guild of America (DGA) and AMPTP (Alliance of Motion Picture and Television Producer). He currently develops new projects through his production company, SIBA MEDIA LLC, and teaches film as an adjunct professor at Santa Monica City College.
Simone talks about how he worked in business until 10 years ago when he became a filmmaker, the benefits of following your passion, and some exercises to get in touch with your senses.
[Read more…]