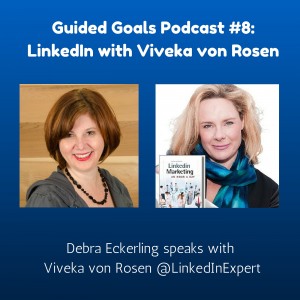 Do you have a profile on LinkedIn?
Want to make a good impression?
Need advice on how to incorporate your passion project?
Viveka von Rosen joins us on the Guided Goals Podcast, and we're going to talk about LinkedIn. Viveka is internationally known as a LinkedInExpert, is author of best selling LinkedIn Marketing: An Hour a Day, and has worked with and trained over 100,000 people on the power and success of doing business using LinkedIn.
Viveka was introduced to LinkedIn, when she wasn't working on her passion, by someone who is now one of her best friends. She gave herself a year to be able to quit her day job and take on training and speaking full time, and is now living her passion.
Importance of LinkedIn
LinkedIn automatically focuses your audience, because instead of 7 billion people there are only 400 million people on LinkedIn. Where LinkedIn is strong is it allows you to connect and engage with anyone you want to, provided they are on LinkedIn and you are willing to put effort into it.
LinkedIn was around before social media was a thing. LinkedIn is a a business tool, so Viveka recommends making the time and consider spending money to ugrade your account, so it can grow your business.
Viveka notes that those who have been on LinkedIn for a long time get a lot more features than newer users. Even if you signed up a long time ago and never use your account, you are still grandfathered in. New users, try to work around the restrictions. If you can't, consider the trying a premium account.
Tips for Getting Started
Before you get on LinkedIn:
Be clear about who you are and what you are sharing.
Also be clear on your audience, so you speak their "language."
Look at existing content to see what you can use for your profile, such as a professional headshot and "about you" text.
Create what you want to use first in a Word document. It checks spelling and grammar. Plus, you can add special formatting to copy and paste into your profile and has a character count. You also have a backup to use for other sites.
When you are ready, go into LinkedIn:
Upload a profile photo, if you haven't already done so.
Change the professional headline. In 120 characters say who you are, what you do, and who you serve.
Add your summary. You have 2,000 characters to describe how the skills you use in your job apply to your passion project and why you are living two lives.
In your experience section, elaborate on what you do at your day job. (That's where the cutting and pasting comes in.)
Add your passion project as an experience section, as a project, or both. If you have a unique email for your passion project's website, add it as a company page too.
When you have a passion project and a day job, be aware of what you share in the same way a job seeker needs to be conservative, based on your situation.
If you are brand new to LinkedIn, go in and create a vibrant profile. After you do that, be conscious of sharing your wins, as they happen. Update the projects section for new clients (as long as you have permission)
Plus, content creators can upload media: website designs, about you videos, video testimonials, a portfolio on SlideShare. The first five are visible, so add five pieces of media to your summary, each experience section and education – they will all show up.
Mistakes
Common mistakes include:
Not uploading a photo or using an unprofessional photo or one that doesn't look like you.
Putting keywords in your last name field. The only thing that should be in your last name field is your last name.
Having more than one account. If LinkedIn finds out, they will make you choose. Better to have one, complete profile with multiple experiences.
Having a bad profile. If someone Googles you, your LinkedIn profile usually shows up toward the top.
Work/Life Balance
Someone once told Viveka, "Only do what you can do."
You have unique talents, Viveka explains. Don't waste your time doing things other people can do. When Viveka hired her first assistant four or five years ago, her business transitioned considerably. She was writing her book and didn't have time for a lot of the littellthings. Viveka says the time you save, your increased productivity will lead to more business and more money, which will more than pay for people to help you.
Viveka purposely keeps her business small. She could grow it, if she wanted to, but she doesn't want to work that hard. If you want to work 20 hours a day, do that. But it's okay to live a balanced life. She mostly has a 4 day work week, which gives her time with her family and decompression time. It keeps her healthy and excited about her business.
Professional Goal of the Week #1: Check your profile picture and make sure it's professional.
Professional Goal of the Week #2: Do an inventory of your existing marketing collateral: about us pages, bios, and resumes. Put everything in one place and go through it to decide what to repurpose for your LinkedIn profile.
Watch the video:
The Guided Goals Podcast gives you the tools, direction, and resources you need to pursue your passion project. Thanks for tuning in.
Subscribe on iTunes, Stitcher or SoundCloud, and leave a review.
Tell us how you are doing on your goals in the comments.
* * *
About Debra: A project catalyst, Debra Eckerling works with individuals and small businesses to create a strategy, set goals and manage their projects. Follow Debra @GuidedGoals, Like Guided Goals on Facebook, Subscribe to YouTube.