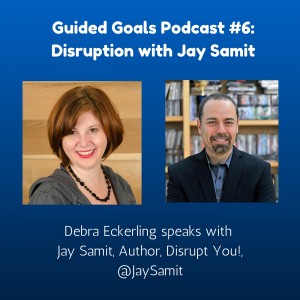 Are you an entrepreneur?
Do you strive to be?
Want inspiration to make it happen?
Jay Samit joins us on the Guided Goals Podcast, and we're going to talk about Disruption. Serial entrepreneur and bestselling author Jay Samit, Disrupt You!, is a digital media innovator who has pioneered advancements in content distribution, social media, and ecommerce that are enjoyed by billions daily.
Highlights
Jay says he has been fortunate to work with bright and creative people over the years. They didn't follow the same path, they followed a similar path. It's a path of looking at the wold not as it is, but as you can make it. Everybody wants to change the world, Jay explains, but nobody wants to change themselves.
It's all about the same thing: solving problems. The more people you can help, the more successful you are.
Tips
You need two things to be successful in this world: you need a great idea and persistence. Everything else can be hired. Focus on the great idea, put it through it's paces. In Disrupt You! Jay talks about how to kill that idea, destroy it, find everything wrong with it, until end up with that zombie idea that can't be killed.
A great idea will attract moths to a flame. And there is tons of capital, there are tons of bright people who know how to code, market, or how to do what you don't. But you can't get to that stage of knowing what you don't until you really look at yourself. The first thing you have to disrupt is your own self-assumptions. You can be good at whatever you want.
Getting Started
Jay says anyone who follows this exercise will have better deal flow that the biggest venture capital firm in Silicon Valley
Write down three problems in your life.
Do that every day for a month.
The first day, there are obvious things.
As the month progresses, you'll have to go deeper to find what's a problem.
At the end of the month, you'll have 90 ideas.
Figure out what applies to the most people and what would excite you the most, and go from there.
The concept is pretty easy. The follow through is: determine how good the idea is, figure out how to shape the idea, discover how to find the funding, etc. And all of that is much easier than taking that first step. The first step is what stops everybody. It's that leap of faith. You know where you want to go, start wandering.
Mistakes
You'll find out that the big idea you had wasn't that good, Jay explains. Almost every successful has pivoted. However, it's that initial start that sends you onto the path less traveled. You will have discovered things no one else has discovered, and that gives you an advantage over those who have not been there.
Jay makes this distinction: Failing is good, because you know what doesn't work. Failure is like throwing in the towel.
The biggest mistake people tend to make is getting discouraged when things don't go according to plan.
Money
"My business failed because I couldn't raise the money" is the entrepreneurs version of "the dog ate my homework."
There's never a shortage of money. The amount of venture capital this year is twice what it's ever been: $40 billion. There's also crowdfunding, friends and family, institutions and private equity, and Jay's favorite source of money OPM (Other People's Money).
Work/Life Balance
You really have to map out our goals, Jay says. Decide what is important to you in life. The purpose in life is to have a life of purpose.
Balance your needs, because you can't put things on hold and say, now that I've reached this destination I'll have this. Life doesn't work that way. It's about the journey.
Professional Goal of the Week #1: Come up with three problems a day for a month, and write them down.
Professional Goal of the Week #2: Find users of what you are trying to do and start getting them as advisers to tell you of what you are doing what does and doesn't make sense.
BONUS: Reach out to Jay on Twitter @JaySamit or his website, and he will send you the 40-page workbook that goes with Disrupt You!
Listen to the podcast:
Watch the video:
The Guided Goals Podcast gives you the tools, direction, and resources you need to pursue your passion project. Thanks for tuning in.
Subscribe on iTunes and leave a review. Tell us how you are doing on your goals in the comments.
* * *
About Debra: A project catalyst, Debra Eckerling works with individuals and small businesses to create a strategy, set goals and manage their projects. Follow Debra @GuidedGoals, Like Guided Goals on Facebook, Subscribe to YouTube.