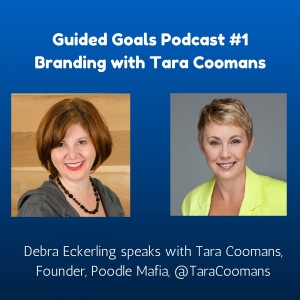 Are you working on branding your business?
Do you have a project in need of an identity?
Want to stand out from the crowd?
Our very first guest is Tara Coomans, and we're going to talk about branding. Tara is a digital branding and marketing strategist and founder of Poodle Mafia, a company with a focus on startups, movements, and personalities.
Highlights
Tara just went through a re-brand of her company to Poodle Mafia. She feels re-branding re-energizes the advice she gives to her clients. Unless you are creating something that is going to literally revolutionize the world, the only thing that will set you apart is the branding. And it's something you need to invest in up front and throughout the process, you'll find yourself a little lost.
First Things First
To start, define for yourself what you stand for, what you are building and what it stands for, and why do you do it. The answer is not to do this because you want to make money, it's because you want to support others. Those are the kinds of whys that matter to other people. Also, figure out what's the number one emotion someone is supposed to feel when they come upon your brand.
Once you get the information (and responses), redefine who you are speaking to at a granular level. Think beyond demographics, so you can have actual conversations with your community that provides feedback for you. Figure out how all of those things (colors, logo) reflect how your audience is supposed to feel when they land on your properties. All the pieces should all support the ideal emotional response.
Tips
Once you have some things you like, go on social media and test some of these ideas.
Get feedback on logo designs and tag lines. Ask friends and family, but reach out to strangers, too. Friends and family will give you different feedback than strangers will. When you invite people to give feedback you bring them into the process.
Then the feedback will send you down a path.
Favorite Resource
Tara uses Hootsuite as a branding tool, because it's great for listening. She tracks certain keywords, so she can stay on top of what her ideal audience is talking about. This helps her start conversations and develop relationships.
Work/Life Balance
When Tara is done working for the day, she turns off her phone and her iPad. When she is with the people she loves, she puts away her devices.Tara says being super-present in the moment when she is having downtime allows her to be super-present when she works.
Professional Goal of the Week: Pick something in progress (logo, image, mission statement) and share it with your network and ask for feedback. Feel free to also share it in the comments of this podcast. And tweet out to @TaraCoomans, so she can support you, as well.
Personal Goal of the Week: Have a lunch and put the phone away for the entire meal.
Listen to the podcast:
Watch the video:
The Guided Goals Podcast gives you the tools, direction, and resources you need to pursue your passion project. Thanks for tuning in.
Subscribe on iTunes and leave a review. Tell us how you are doing on your goals in the comments.
* * *
About Debra: A project catalyst, Debra Eckerling works with individuals and small businesses to create a strategy, set goals and manage their projects. Follow Debra @GuidedGoals, Like Guided Goals on Facebook, Subscribe to YouTube.