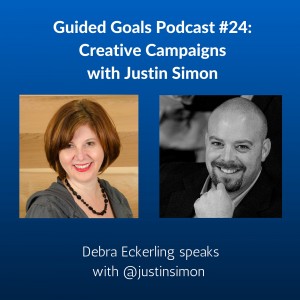 Do you come up with creative campaigns for clients or your own business?
Want to learn about the importance of combining social media and digital campaigns?
Looking to stand out?
Justin Simon joins us on the Guided Goals Podcast, and we're going to talk about Creative Campaigns. Justin is Chief Social Strategist at Fanatics Media, which specializes in influencer marketing and digital campaigns for B2C products and services.
Justin shares tips for and examples of social media and digital campaigns, standing apart from the crowd, and more. Justin's background is in a variety of areas, so he knows the importance of merging social media and digital campaigns together.
Creative Campaigns
To create a successful campaign, it's essential to know what your clients goals are, whether it's lead generation, email, branding, ecommerce, etc. Justin gives one client as an example who needed to do a branding campaign (to get their company out there), before shifting gears to ecommerce. Another only wanted email capture.
Branding Campaign
Taco Bell does a great job of branding all their new products with bizarrro names. They find different ways to introduce them. They integrate marketing and social media, do giveaways. Their social media group is run by former advertising executives, because they didn't want just social media, they wanted a marketing feel. So whenever they have something to say (new products, new hours), they all have the same vibe.
The purpose of a branding campaign is to get people to think about you when they are in the market for the product you are selling
Email Campaigns
Contests are always great. People like free things.
They did a campaign for a laptop charger, called Zolt.  They were giving away a trip for two to New York, Los Angeles, or Miami, along with a Zolt to use on their travels. The concept of the campaign was travel lighter.
Their email list went from less than 100 to 7,000 subscribers in 3 1/2 to 4  weeks. They were able to convert a high number of subscribers, because they were interested in the product.
All it cost was the trip, which was about $2,500. They spent very little money on advertising on Facebook and Twitter (less than $2,000 total), and they asked a few influencers  who they worked with in the past to send out a post or a tweet or two. Every time they did that, another 150 names were added to the email list.
They were hoping to sell 10,000 units at launch, and the crushed it. The chargers have been on back order, and are about to go out.
Surveys
Justin recommends doing multiple surveys. the first one should be to find out the voice of your customer, so you can figure out the personas and the type of people you are going after. The second survey should be something interesting in your client's realm, whether it's a travel survey for the charger people, food product, tech products. Find out your audience's interests, so you can create contact that speaks to them. They leads to content for your blogs, press releases, social media and digital campaigns, and more.
Getting responses should be a combo of social media posts and your email list. There are also companies that run survey's inexpensively that can target your exact market.
Find hacks for successful surveys on YouTube. For example, offer a $50 Amazon card to give to one of the respondents. People will likely be happy to spend five minutes on a survey for the chance at a $50 gift card.
Email Campaigns & Sharing Ideas
If you want to look at a company that does successful email campaigns, look at Hubspot. they give away excellent content in their nich in exchange for email addresses.
Fanatics Media's Mark Fidelman is the social media columnist for Forbes and he is constantly giving away information because, as he told Justin, "I know how to do it." This way he gets noticed by big companies looking to hire and he can help smaller businesses doing this one their own,
If you are an expert in the marketplace, let people know how smart you are. Plus, give people a reason to pay you more. To make it on your own, you have to think differently.
Work/Life Balance
Justin was a work-around-the-clock type until he took an online productivity course, called Lifehack Bootcamp,. It has helped him better organize his time, so he can end his day at a reasonable hour. He now sets an alarm to go off at 6:30 every day, and, if it's not urgent, he leaves whatever work needs to be done for the next day.
Personal Goal of the Week: Set a cut off time with an alarm to end of your day. Also, give yourself breaks throughout the day.
Professional Goal of the Week: Make a list of ways to set yourself apart and try them out.
Want to learn more about creative campaigns? Listen to the entire interview on iTunes or Stitcher.
Watch the video:

The Guided Goals Podcast gives you the tools, direction, and resources you need to pursue your passion project. Thanks for tuning in.
Subscribe on iTunes, Stitcher or SoundCloud, and leave a review.
* * *
About Debra: A project catalyst, Debra Eckerling works with individuals and small businesses to create a strategy, set goals and manage their projects. Follow Debra @GuidedGoals, Like Guided Goals on Facebook, Subscribe to YouTube.