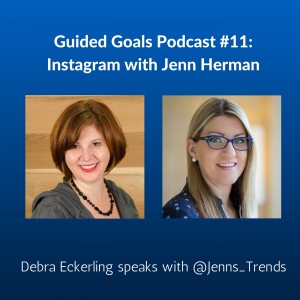 Have you explored Instagram?
Want to learn what the fuss is all about?
Ready to get started?
Jenn Herman joins us on the Guided Goals Podcast, and we're going to talk about using Instagram for your Passion Project. Jenn of Jenn's Trends is a social media consultant, trainer, and the forefront blogger on Instagram marketing.
Jenn says her blog started out as a passion project, so she had something to do on weekends. Since it was a social media blog, she needed to learn Instagram. When Jenn found there weren't any good Instagram resources out there, her blog became one. She writes a new blog post once a week and alternates between posts on Instagram and social media posts. She has written more than 100 blog posts about Instagram marketing.
Instagram is a powerful tool to help people grow their business.