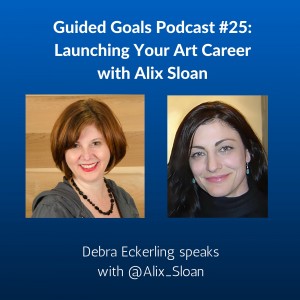 Are you an artist?
Looking to launch your career in art or another industry?
Want to know what you need to do?
Alix Sloan joins us on the Guided Goals Podcast, and we're going to talk about Launching Your Art Career … or any career. As an author and arts professional, Alix writes both fiction and non-fiction, lectures at art schools and organizations, coaches artists, curates exhibitions and works with a wide range of freelance clients. She is the author of Launching Your Art Career.
Alex shares tips for getting started, pricing, networking, and more. Although these tips are geared at launching an art career, many of them are relevant for everyone.