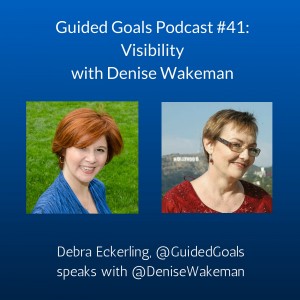 Denise Wakeman joins us on the Guided Goals Podcast, and we're going to talk about visibility. Denise is a Digital Marketing Strategist, who works with authors and online entrepreneurs to strategically use social marketing tools to gain visibility, build credibility, and get their message out to the world.
Denise talks about the ever-changing digital marketing and social media space, the importance of visibility, tips for how to increase your visibility, her branding journey, and more.
Learn more about Denise's Visibility Challenge.
Denise's Background
Denise has been working on the web since 1996, and has seen all the changes from email to websites to social media. She says hat's what makes it so exciting for her to help people find their way through the digital marketing web.
Keeping up with the digital marketing changes is a challenge we all face, she explains. Social media changes daily now. For instance the tools for live streaming have recently exploded.
Denise suggests people just stay focused about what they need for their business. And find people (and resources) to show you the way. It's Denise's job to know these things, so she jumps on the new things all the time, and learns what she needs to educate her clients.
The Importance of Visibility
If you want to be found by your ideal client, customer, etc., people need to be able to find you. They can't find you if you are not visible (active online).
You need to be consistently visible on the same platforms as your clients. For instance, if your focus is business, be consistent on LinkedIn. If you are an author, novelist, or artist, Facebook is likely where you want to be.
It's not so much about posting – although that's a part of it – as having a constant message. Stay top of mind, so you are there when people need the solution you provide.
Your Message
Clarifying the message is one of the greatest challenges people face.
There are so many ways to get your message across, Denise says, to tell your story. You can tell is visually with pictures, stories on your blog, videos.
Figure out two things:
What does your audience want to know?
How are you the most comfortable telling your story?
You don't want to spread yourself too thin, so figure out what works for you. Create content in your comfort zone, but also stretch yourself to try new things. For example, you won't know you don't like video, unless you try it. Then, you can make an informed choice.
Your Starter Platform
Denise is from the school of you need to have your own site first and have a blog. (I am too, by the way.)
What you post on your blog is what the search engines seek. Start with a website and blog to build your foundation, because you need to have a place to send people to demonstrate your authority and expertise.
While Medium is a great platform for publishing your content, it's not your site. After you publish a new blog post, promote the content and then drip it out to your social media networks.
Two weeks after the original publication, re-post your articles on places like LinkedIn Publisher and Medium. That's about how long it takes for search sites to index the content on your blog. Also, always link to the original post.
Engagement
Pick two platforms that you like the best, and make a commitment to engage there. Go in several times a day to check activity, and respond to people. Reply to their comments and questions, and thank them for posting and sharing.
When asked whether people should have a Facebook Page or Group, Denise says both are important. Have a Page for your business content. You can also promote your posts. Create a Group for a much more intimate experience, she says. That's how you really get to know people. Denise has groups for her private programs, as well as some of her free programs that she uses as lead generators.
Plus
It's really important to include and integrate visual marketing into your plans. The images and video really get the most attention. Live video on Facebook gets much further reach than pictures. Before, pictures got more than text.
Mix it up. Experiment a little bit.
For instance, Instagram is a very popular platform for telling a story. You just need to figure out your message.
The thing about images is you can create one image and publish it on all the platforms.
Denise likes to post tips and quotes. Since her brand is adventures and visibility, she is always looking for quotes on adventures and taking risks. She uses those quotes on top of pictures of her travels.
Work-Life Balance
Especially when you are an independent business owner, it's important for those two pieces to have equal weight. It's easy for Denise to get absorbed in her work, so it's important for her to schedule social time.
She loves to travel, so she made the decision to make an adventure out of everything. Part of the adventure: Denise's planning to live and work in Peru for a month.
Personal Goal of the Week: Schedule adventure/social time, so you incorporate it into your life.
Professional Goal of the Week: Post something every day to be visible to your prospects and clients
Want to learn more about visibility? Listen to the entire interview on iTunes, Stitcher, or Google Play.
Watch the video:

Write On Online's Guided Goals Podcast gives you the tools, direction, and resources you need to pursue your passion project. Thanks for tuning in. Learn more about my writers community at Write On Online.
Subscribe on iTunes, Stitcher or SoundCloud, and leave a review.
* * *
About Debra: A project catalyst, Debra Eckerling works with individuals and small businesses to create a strategy, set goals and manage their projects. Follow Debra @GuidedGoals, Like Guided Goals on Facebook, Subscribe to YouTube.