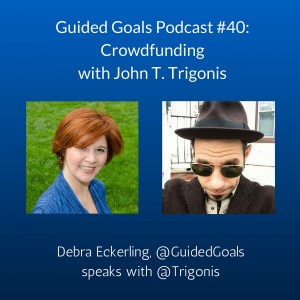 John T. Trigonis joins us on the Guided Goals Podcast, and we're going to talk about Crowdfunding. A writer and story maker, John is author of Crowdfunding for Filmmakers –– 2nd Edition and mentors campaigns as Indiegogo's head Film & Creative Campaign Strategist.
John explains why crowdfunding is important, as well as how to create a campaign and set yourself up for success. Although it's geared toward crowdfunding for filmmakers, there are valuable tips for anyone considering crowdfunding any project.
John's Background
John loves being a mentor and a strategist. Even though crowdfunding is newish, remember that the Statue of Liberty was early crowdfunding.
John explains how he got into crowdfunding, because he didn't believe people would give money to fund someone else's project. He wanted to prove the model wrong, but instead he was proved wrong. John has been making movies for the last 12 years, and raised money for his 8th short film via crowdfunding in 2010. He aimed for $5,000, and raised about $6,300.
After his success, he started advising people on crowdfunding. He wrote a proposal for Crowdfunding for Filmmakers, tweeted it, and Michael Wiese Productions jumped at it.
He was still giving free advice when, via Twitter, he made the connection with Indiegogo, and they hired him.
Benefit for Those who Donate
Viewers are helping people make a movie they will enjoy, John explains. But they also get perks/incentives for contributions, such as a t-shirt, to see it in advance, etc.
The backers want to be involved in the journey, which is something filmmakers need to take more seriously.
Although crowdfunding is mainly used for technology and entertainment, people use it for lots of things. It depends on how passionate someone is about the project and if they are willing to do the work to find the audience
Filmmakers are willing to work their butts off, but they are not used to this part of the process. John says, if you are a horror director and are not commenting on horror sites, you are not a horror filmmaker. You need to be ingrained in your community.
What brings people to crowdfunding
John says his answer to this question hasn't changed in four years. It came from something Adam Chapnick said on a panel: "If you are crowdfunding for money, you are doing it wrong."
You do crowdfunding, because you want the audience, John explains. If you want money, go to an investor. If you want a grant, look for one. But neither of these will help you find the most important part of doing a film, which is an audience. If you don't have an audience, what's the point of doing the film.
How to Get Started
You need to build an audience before the campaign, not just during it. Give people value now, and they will give you value (money) later (during the campaign). This might be two weeks, it might be six months before you launch.
Then, after you launch the campaign, continue to do this. For every five or six "valuable" posts, you earned the right to share something about your campaign.
Take it offline, John continues. Go out and talk about film. As soon as you realize you've talked too much about your project, switch and ask about their projects. And then, talk about film. That's how you will solidify a friendship.
John shares what they say at Indiegogo: People give to people not to projects.
For more on social media, check out these podcasts on Content Marketing, LinkedIn, Instagram, Twitter, Live Video, Video, and Networking.
Campaign Pieces
First, you have the campaign video, which is the most important part. The age of the shy filmmaker is done, John adds.
The video is your introduction. You need to get across in 3 minutes:
Who are you
What your project's about
And why someone should give you money over someone else
Next is the story section. This is the written part, which now includes some element of design. It should give a sense of what kind of film you are making.
Finally, there are the perks. It's what people get for investing in the movie
There are 3 types:
Standard. These are the mandatory incentives. For instance, backers need to see the film before anyone else. It could also be merchandise.
High Definition. These are out-of-the-ordinary experiences, like being on set.
And 3-Dimensional. These are personalized perks that bring people into the world of the film. For example, John wrote acrostic poems as an incentive. It tied into the film, because his film is about words. Even something as simple as a personalized Facebook photos are great. If you do something as a "thanks for contribution to "X" film," backers will put it on their profile and give you additional promo.
The downside to 3-D perks is they take a lot of time. Find the time, John suggests, because that means you will hit your goal quicker.
Campaign Length
Statistically the perfect timing is 30-45 days. John says run your campaign for as long as you can keep it interesting.
It's also contingent on how small or large a goal.
Indiegogo overs a one time extension; the maximum is 60 days. If you need it, take it.
The Goal
Even raising $20,000 is difficult. John has never raised more than $7,000 on a campaign, but he has helped others raise much more than that.
Check yourself in the mirror. Look at your network and see if you can get 30% of the amount from friends and family. If you can't, you need to adjust your budget.
It's up to you to build the momentum quickly, then spread the word.
Work-Life Balance
After working on his own for so many year, John has a new standard. He works 5 days a week, 10-6. Then, his work day ends.
He goes home. Then, after he feeds the cat and eats dinner, John spends 3 to 4 hours is writing, tweeting, keeping his creative projects going.
Personal Goal of the Week: Set a cut off time when the day job (or work day) stops.
Professional Goal of the Week: Build your network, and start to envision your campaign.
Want to learn more about crowdfunding? Listen to the entire interview on iTunes, Stitcher, or Google Play.
Watch the video:

Write On Online's Guided Goals Podcast gives you the tools, direction, and resources you need to pursue your passion project. Thanks for tuning in. Learn more about my writers community at Write On Online.
Subscribe on iTunes, Stitcher or SoundCloud, and leave a review.
* * *
About Debra: A project catalyst, Debra Eckerling works with individuals and small businesses to create a strategy, set goals and manage their projects. Follow Debra @GuidedGoals, Like Guided Goals on Facebook, Subscribe to YouTube.