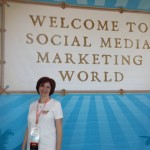 This week is Social Media Examiner's Social Media Marketing World.
Thrilled to run into friends and previous guests at the conference, I thought I would share their Guided Goals Podcast interviews.
Jon Wuebben talks about content marketing, Viveka von Rosen discusses LinkedIn, Jenn Herman talks Instagram, and Madalyn Sklar goes over Twitter. Listen to and/or watch these fantastic social-media focused podcasts.
Content Marketing with Jon Wuebben
Jon Wuebben and I talk about Content Marketing. Jon is the CEO of Content Launch, a content marketing platform provider as well as the author of the bestselling, Content is Currency: Developing Powerful Content for Web & Mobile. Jon has been doing writing and content marketing for the past 12 years. Jon says his business has never been like work to him, because it's what he loves to do.
Listen to the podcast:
Watch the video:
Professional Goal of the Week #1: Write a blog post. If you have trouble getting started, Jon recommends drinking a cup of coffee or other caffeine before you sit down to write. It will give you a jolt.
Professional Goal of the Week #2: Reach out to five influencers in your field and start to develop relationships with them.
Bonus Goal from Jon: Listen to this podcast and take notes. Write down a few things that you will immediately. When you write down your goals and look at them regularly, you are more likely to do them.
* * *
LinkedIn with Viveka von Rosen
Viveka von Rosen and I talk about LinkedIn. Viveka is internationally known as a LinkedInExpert, is author of best selling LinkedIn Marketing: An Hour a Day, and has worked with and trained over 100,000 people on the power and success of doing business using LinkedIn.
Watch the video:
Professional Goal of the Week #1: Check your profile picture and make sure it's professional.
Professional Goal of the Week #2: Do an inventory of your existing marketing collateral: about us pages, bios, and resumes. Put everything in one place and go through it to decide what to repurpose for your LinkedIn profile.
* * *
Jenn Herman and I talk about using Instagram for your Passion Project. Jenn of Jenn's Trends is a social media consultant, trainer, and the forefront blogger on Instagram marketing. She has written more than 100 blog posts about Instagram marketing.
Listen to the interview on iTunes or Stitcher:
Watch the video:
Personal Goal of the Week: Schedule time for your Passion Project. Put it in the calendar, even if it's just once a week.
Professional Goal of the Week: Get on Instagram, fix your bio, and add 6 pics that are indicative of your specialty.
* * *
Madalyn Sklar and I talk about using Twitter for your Passion Project. Madalyn is a top-ranked social media power influencer. blogger. and podcaster. Madalyn offers great tips for getting started, engaging, following, getting followers, and more.
Listen to the interview on iTunes or Stitcher:
Watch the video:

Professional Goal of the Week #1: Fix your Twitter profile.
Professional Goal of the Week #2: Start listening and find people and connect.
Bonus Professional Goal of the Week:Find a Twitter chat and join in. The more you join consistently, the more people get to know you. You will be amazed by what you get out of it, Madalyn says. Tweet to @MadalynSklar to let her know how it goes! Tweet to @GuidedGoals too!
* * *
The Guided Goals Podcast gives you the tools, direction, and resources you need to pursue your passion project. Thanks for tuning in.
Subscribe on iTunes, Stitcher or SoundCloud, and leave a review.
Tell us how you are doing on your goals in the comments.
* * *
About Debra: A project catalyst, Debra Eckerling works with individuals and small businesses to create a strategy, set goals and manage their projects. Follow Debra @GuidedGoals, Like Guided Goals on Facebook, Subscribe to YouTube.