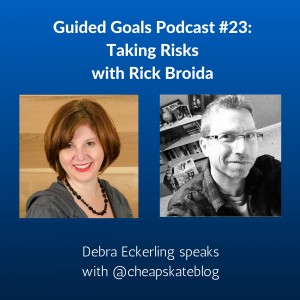 How do you feel about taking risks?
Is there a project you want to launch?
What's stopping you from jumping in?
Rick Broida joins us on the Guided Goals Podcast, and we're going to talk about taking risks. Rick has written about consumer technology for over 25 years and is the author of CNET's long-running The Cheapskate blog and The Cheapskate Rules: 21 Easy Money-Saving Tech Secrets. A little over a year ago, he started Trapped in a Room with a Zombie, an escape room located in downtown Detroit
Rick talks about zombie rooms, taking risks, passion projects, and more.
Escape Zombie Rooms
An Escape Room is a new kind of game, where you are locked in a room with a group of people (friends, family, coworkers, strangers), and there are usually themed clues and puzzles that you have to figure out as you go and ultimately escape. There's usually a 60-minute timer and you are working against the clock. In Trapped in a Room with a Zombie, you are trapped in a room with a real-live chained-up zombie that wants nothing more than to eat everyone in the room. The game starts with the zombie on a pretty short chain. Every five minutes a buzzer sounds, and the zombie gets an extra foot of chain. You have to solve the puzzle within 60 minutes or else teh zombie will be able to reach the door and you.
Rick licensed the show from the guy who created it, Marty Parker, who started it in Columbus, Ohio, and then one in Chicago, which is where Rick saw it on a whim with his daughter. He saw it, loved it, and knew they had to have one in Detroit. Rick immediately reached out to Marty and five-months later, they opened in Detroit.
Rick says this is the second time in his professional life where he thought, "I gotta do this," and steam-rolled his way into it without a lot of thought or planning.
They are now about 14 months in. They opened December 2014.
Getting Out of Your Comfort Zone
For Rick, who is used to staying in his quiet writing space, this was way out of his wheelhouse.
He admits to being an introvert who, along with Dave Johnson (who talked about Project Management on the Guided Goals Podcast), is comfortable talking to rooms of 500 people, but small groups of people, not so much.
Rick has been a zombie since before he opened his show, and says it's the most exhilarating experiences he's ever had. You get dressed up and in make-up, you roll around on the floor and growl, and try to "bite" people. It;s so much fun and a great workout.
Jumping In
After he saw the show in Chicago and had the transformative moment, the wheels went in motion. They licensed the show and found a space.
He spends his days writing about technology, and occasionally does a radio spot or something. This was far beyond anything he had done before.
Rick was 45 years old at the time, and was doing the same thing for the past 20+ years. When this came along, he couldn't pass it up.
In essence Rick now has two gigs (passion projects) doing what he loves that are completely different.
Advice
Rick says as he gets into his late 40s, he thinks about what is standing in his way of trying something new.
We all have economic realities, bills we have to pay. But there are weekends, evenings, slivers of time you can find. If you have your passion project you've always wanted to try, you have to make it happen, because otherwise you get 20, 30 years into a job you hate and you wonder: What was I waiting for? Why didn't I take that risk?
He doesn't want to have that regret.
Rick's Other Leaps
Rick talks about Palm Pilot, the first big hit PDA. Six months or a year after they came to market, it was snowballing into popularity. Rick noticed everybody was asking the same questions. Rick had the Aha Moment that there needs to be a newsletter.
So he created a newsletter, called Tap. Rick jumped in, having no idea what he was doing. It evolved from a two-color bi-monthly newsletter and turned into a full-fledged magazine on newsstands. It ran for about 5 years. It launched in 96, 97.)
Work/Life Balance
Rick has been on a learning curve with the Zombie Escape Room, but is fortunate in that his other gig is freelancing, which gives him a flexible schedule. "If you are willing to give up sleep and being with your friends and family, you can have it all," Rick says.
He doesn't have a secret recipe to his work-life balance, it just works.
What He Knows Now …
He has learned it is important not to dwell on mistakes. The previous Rick would have beat himself senseless. This Rick realizes mistakes will happen. You just have to learn fro it and move on.
Personal Goal of the Week: Have scheduled, spontaneous fun, outside your comfort zone.
Professional Goal of the Week: Give some headspace to something you've always wanted to do (meditate on it) and see if it's worth taking the leap.
Want to learn more about taking risks? Listen to the entire interview on iTunes or Stitcher.
Watch the video:

The Guided Goals Podcast gives you the tools, direction, and resources you need to pursue your passion project. Thanks for tuning in.
Subscribe on iTunes, Stitcher or SoundCloud, and leave a review.
* * *
About Debra: A project catalyst, Debra Eckerling works with individuals and small businesses to create a strategy, set goals and manage their projects. Follow Debra @GuidedGoals, Like Guided Goals on Facebook, Subscribe to YouTube.