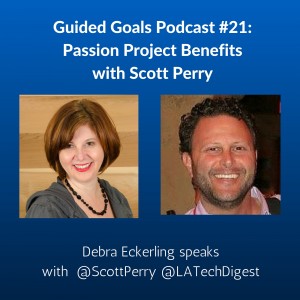 Do you benefit from your passion project?
Are you still looking to focus your expertise?
Need some tips?
Scott Perry joins us on the Guided Goals Podcast, and we're going to talk about how to make the most of your passion project. Scott founded LA Tech Digest to chronicle LA's long-overlooked, growing tech scene, and in order to better connect to the area's top doers in local government, VC, and startup space.
In addition to running the Digest, Scott's firm Sperry Media handles integrated / experiential / social visual content marketing for clients such as BBC, CBS, Discovery, Fox, Hasbro, MTV, Viacom, Sony, and Universal.
Scott talks about what led him to create the digest and its benefits. Plus, he offers advice for those looking to take their expertise to the next level.
Scott has been a part of the tech space peripherally for the past decade. He has seen the la tech environment come and go in waves, and wanted to start something that would give LA tech its due.
Passion projects give you access access
Scott says he has always been an aggregator of information, which has enabled him to become a consultant do marketing for companies.
For example, prior to LA Tech Digest, he had a website called New Music Tip Sheet. Because of this, anyone with a vested interested in the music scene went to his website for information. He was able to leverage that into contracts and relationships.
Scott still doesn't consider himself an expert in the tech space, but the digest has given him access to people in the industry, from government officials and founders. What he is not making in revenue, he makes up in education and contacts.
Creative thinking 
if you ultimate goal is to do your passion project to make you happy, that's great.
If you are looking to transform your passion project into a legitimate business, it requires a different level of thinking. Think about what skills you have you can leverage to an audience. See if you can develop a community based on your passion that will follow you and then gain sponsor for that community.
A lot of the film and tv marketing work Scott does is with 250 comic book shops nationwide. And that all started because he met some people from Cartoon Network at a conference ten years ago. He was faced with the challenge of marketing Cartoon Network's Adult Swim brand to independent record stores in non evasive ways, which he was then able to leverage to comic book shops and skate shoes. He found a way to connect the two different elements (the network and the stores) and put himself in the middle of it and make money doing it.
The deeper connections he is making with the LA Tech scene makes it worth it to do the Digest. People have also come to know Scott as the guy to go to when you have a question about the LA tech scene.
Content and social networks
Although 70% of content on most sites is video, Scott still prefers the written word.
He also shares his thoughts on the social networks. Scott believes Twitter's time has come and gone. Facebook is still dominant. Vine is fine if you are 12 and can stitch together a 6-second video. Instagram is doing well. Snapchat will continue to grow as more adults start using it. While Pinterest doesn't appeal to him, it's a great platform, especially if you are into DIY projects, etc., to establish your expertise and then leverage it for work.
Whenever a new platform comes out, claim your name, Scott says, whether you use it or not. Plant your ground.
Building your business
Scott talks about how Sophia Amoruso started Nasty Gal on eBay as a way to off-load her flea market goods. She developed enough business to make and sell her own goods. Then moved over to a Nasty Gal proper website. Now she has a full-fledged business, complete with brick and mortar stores. It's a long-term process.
Tips
The best time to start a business was a year ago. The second best time is today.
Find areas and like minded people to grow your business.
Look at the tea leaves and see what needs should be addressed. Look at what is being done in other towns that you can bring to where you live. Also, make sure people want what you have to offer.
In a nutshell:
Understand your passions
Understand your abilities
Research areas that are of interest to you — trends, companies, people involved
Find areas to connect you to such opportunities (job listings, or in Scott's case, creating opportunities from whole cloth)
Bridge that gap between deficiency and opportunity so that you may profit from serving the needs of your clients
Work/Life Balance
Scott carves out time in the morning to meditate, read the headlines, exercise. The work he does ties into what he enjoys. Being part of LA tech scene, he goes to events 2-3 times a week. He likes to meet new people and learn.
Personal Goal of the Week: Learn more about your topic. Go to an event, read a book, dive in.
Professional Goal of the Week: See what people in big towns are doing in relation to your expertise and determine how to translate it for your passion project.
Bonus Goal: Don't just do research. Get involved in your community too.
Want to learn more about how to benefit from your passion project? Listen to the entire interview on iTunes or Stitcher.
Watch the video:

The Guided Goals Podcast gives you the tools, direction, and resources you need to pursue your passion project. Thanks for tuning in.
Subscribe on iTunes, Stitcher or SoundCloud, and leave a review.
* * *
About Debra: A project catalyst, Debra Eckerling works with individuals and small businesses to create a strategy, set goals and manage their projects. Follow Debra @GuidedGoals, Like Guided Goals on Facebook, Subscribe to YouTube.