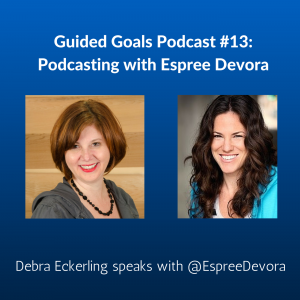 Have you ever thought about podcasting?
Do you have a story to tell or information to share?
Want to know how to get started?
Espree Devora joins us on the Guided Goals Podcast, and we're going to talk about podcasting. Espree is known as "the Girl who Gets it Done," and is Communications VP and podcast host at WeAreLATech.
Espree is "in love with podcasting," which she has been doing since August 2014. The WeLoveLATech podcast, which went live in iTunes September 23, 2014, and hit #2 in the country in New and Noteworthy by the beginning of October, focuses on LA startups. She also has the Women in Tech podcast and the Hello Customer podcast. The theme is startup life and customer experience. It where her heart is and what she enjoys creating content about.
Why podcast?
If you are interested in podcasting, if you think podcasting is something you would genuinely enjoy doing and you think it could provide value to a lot of people, there are different methods to be able to produce a wonderful podcast. "Should you podcast?" is like saying "should you be on every social network?" No. If you are on something you don;t genuinely want to be on, then nobody will be able to emotionally connect with the content you are creating.
Choose a platform you personally connect with and identify with, and then focus on that. For example, Espree loves Twitter, so that's the platform she uses first and foremost, to compliment her business. Podcasting, she says, is more of an artform. It's the product and Twitter is the platform she uses to talk about it.
Not everyone should podcast, like not everyone should be on every social network. Choose a platform you connect with and identify with, and focus on that.
The value of a podcast
Espree started a podcast because she loved creating video content. The editor she partnered with fell through. She went on a soul-search backpacking trip. After she came back, she realized she still wanted to create this content, but she discovered podcasting. It was something she could create that she could have full control over.
With a podcast she can also scale and go beyond the venues where shes speaks, as well as connect great people with one another.
Podcasting networks, like Gimlet Media (who produces Reply All and The Startup Podcast, and The Mystery Show), create podcasts that genuinely tell a story and have incredibly high production value that is an incredible auditory experience. Espree believes anyone who takes podcasting seriously and sees it as an art form, like she does, would aspire to be as great as This American Life and the Gimlet Media shows.
Resources
Everybody should great their own journey. Their intuition is your oracle.
Tools Espree uses include:
Find intuitively what works for you and go along that path.
Mistakes
Sometimes people are more in love with what they have to say than creating good content. Cut out the parts that don't add value to your listener. Remember, there are people who are receiving your info on the other end.
Work/Life Balance
Although Espree is constantly working, there are things she does to maintain balance.
Espree:
Professional Goal of the Week: Write out your vision for your podcast
Personal Goal of the Week: Take time to meditate.
Want to learn more about podcasting? Listen to the entire interview on iTunes or Stitcher:
Watch the video:
The Guided Goals Podcast gives you the tools, direction, and resources you need to pursue your passion project. Thanks for tuning in.
Subscribe on iTunes, Stitcher or SoundCloud, and leave a review.
Tell us how you are doing on your goals in the comments.
* * *
About Debra: A project catalyst, Debra Eckerling works with individuals and small businesses to create a strategy, set goals and manage their projects. Follow Debra @GuidedGoals, Like Guided Goals on Facebook, Subscribe to YouTube.