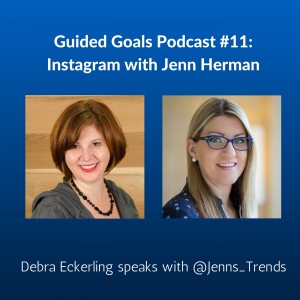 Have you explored Instagram?
Want to learn what the fuss is all about?
Ready to get started?
Jenn Herman joins us on the Guided Goals Podcast, and we're going to talk about using Instagram for your Passion Project. Jenn of Jenn's Trends is a social media consultant, trainer, and the forefront blogger on Instagram marketing.
Jenn says her blog started out as a passion project, so she had something to do on weekends. Since it was a social media blog, she needed to learn Instagram. When Jenn found there weren't any good Instagram resources out there, her blog became one. She writes a new blog post once a week and alternates between posts on Instagram and social media posts. She has written more than 100 blog posts about Instagram marketing.
Instagram is a powerful tool to help people grow their business.
Pinterest versus Instagram
"What's the difference?" I had to ask …
Jenn says Pinterest is more like a gathering place – content to read later. You pull things toward you, while on Instagram you create content to send out. It's also great for using images to tell your story.
How to Get Started on Instagram
First, pick a name and a user name. Those names are different. Your name is on your bio, while your user name is how people will know you. Try to use what you do as part of your user name, since your name and user name are the only two searchable criteria on Instagram.
Next, write your bio. You have up to 150 characters, but don;t just copy and paste your Twitter bio. Add emojis, symbols, and line spaces to stand out. (Note: Hashtags in your bio are not clickable, so don;t use them.)
When someone comes to your Instagram profile, they will look at your bio and your first six photos, which are the most recent six photos you posted. You want it to be representative of who you are and what you do.
Jenn says to remember your photos are all part of your story, so don't delete old photos. If you have a very personal account and want to start one that's professional only, that's another option.
The One Link
The fact that Instagram has only one link (on your profile) differentiates it from all other social platforms, Jenn explains.
Put the link to where ever you want people to go! Then occasionally put a call to action in the caption of your post. Say "Click on the link on my bio to …" You can change it as often as you want, but you probably don't want to change it hourly.
Keep in Mind
Instagram is the largest growing social media platform.
When you are working on a passion project, your passion comes across on Instagram. Jenn thinks of it as the visual version of Twitter, but people stop and look at the photos.
Don't necessarily follow the people who follow you. Follow celebs, athletes, artists, people who interest you. When you stroll through your content, it should be exciting.
Remember to respond to people who post thoughtful comments on your images. Make sure you take the time to engage, since it;s a great way to develop relationships. Jenn says she has met people exclusively on Instagram who are now business colleagues.
Plus, use the platform to like posts of and engage with influencers, since they are more likely to see your comments and respond on Instagram than they would on other platforms.
Give Instagram a chance to see what it can do for you.
Work/Life Balance
Jenn has a full-time day job and Jenn's Trends is her passion. Plus, and she's a new Mom. Jenn says you need to know your limits. For example, she used to blog twice a week, and now blogs once a week. To live a balanced life, and also have time for your passion project, scheduling and organization is key.
Personal Goal of the Week: Schedule time for your Passion Project. Put it in the calendar, even if it's just once a week.
Professional Goal of the Week: Get on Instagram, fix your bio, and add 6 pics that are indicative of your specialty.
Remember, if you can't find an answer to your Instagram question on Jenn's blog post, just ask. She'll write a blog post. Connect with Jenn on Instagram, Twitter, Facebook, Pinterest, Google+ or on her website.
Follow Guided Goals on Instagram too!
Want to hear more about Instagram? Listen to the entire interview on iTunes or Stitcher:
Watch the video:
The Guided Goals Podcast gives you the tools, direction, and resources you need to pursue your passion project. Thanks for tuning in.
Subscribe on iTunes, Stitcher or SoundCloud, and leave a review.
Tell us how you are doing on your goals in the comments.
* * *
About Debra: A project catalyst, Debra Eckerling works with individuals and small businesses to create a strategy, set goals and manage their projects. Follow Debra @GuidedGoals, Like Guided Goals on Facebook, Subscribe to YouTube.