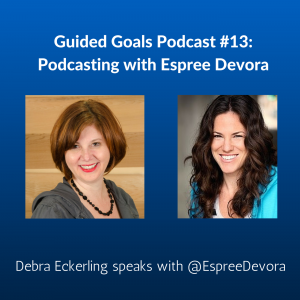 Have you ever thought about podcasting?
Do you have a story to tell or information to share?
Want to know how to get started?
Espree Devora joins us on the Guided Goals Podcast, and we're going to talk about podcasting. Espree is known as "the Girl who Gets it Done," and is Communications VP and podcast host at WeAreLATech.
Espree is "in love with podcasting," which she has been doing since August 2014. The WeLoveLATech podcast, which went live in iTunes September 23, 2014, and hit #2 in the country in New and Noteworthy by the beginning of October, focuses on LA startups. She also has the Women in Tech podcast and the Hello Customer podcast. The theme is startup life and customer experience. It where her heart is and what she enjoys creating content about.