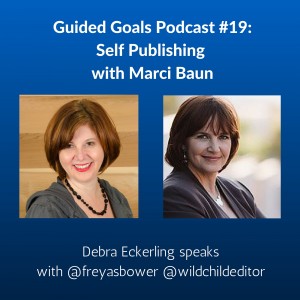 Are you considering self publishing?
Have you written a book?
Do you want to write a book to showcase your expertise?
Marci Baun joins us on the Guided Goals Podcast, and we're going to talk about self publishing. A writer, editor and publisher, Marci is the founder and CEO of Wild Child Publishing and Freya's Bower, and also helps authors self publish.
Marci talks about what you need to know to write, prep and self publish a book.
People choose to self publish for many reasons: you have more control, you can set your price, you can decide on distribution, and mostly so you don't have to wait many years to get an agent, find a publisher, and get released.
So many people have a lot of information to share, and this is an easy way to get it out there, Marci says.