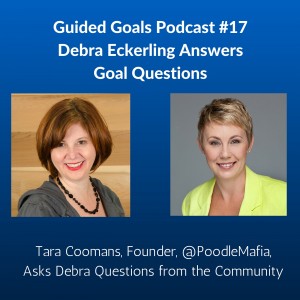 Have you set goals for the new year?
Do you have a plan to achieve them?
Want to set yourself up for success?
Debra Eckerling, project catalyst and host of the Guided Goals Podcast, answers questions about how to set and achieve goals in the new year.
Debra is joined by Tara Coomans, founder of Poodle Mafia, who will be asking the questions, posted by the Guided Goals community. (Tara was the first podcast guest ever, and now joining us for the first show of 2016.)
For future "ask Deb" episodes, post questions on Facebook, tweet to @Guided Goals, or email your goal questions to guidedgoals@gmail.com.