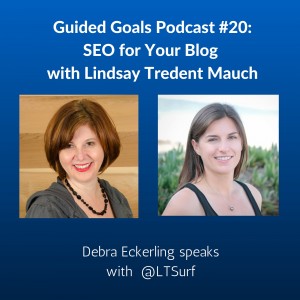 Do you use SEO for your blog?
Want to make your posts more searchable?
Need help getting started?
Our guest today is Lindsay Tredent Mauch is, and we're going to talk about SEO for your blog. Lindsay is the Founder of LTM Digital, a Marketing & Social Media Boutique Agency focused on health, fitness, and technology and runs her own health and fitness blog, FitAndAwesome.com.
Lindsay shares the evolution of Fit and Awesome, as well as how to create blog posts for SEO.
Lindsay, who she started her own business while working full time, explains how in 2012 she went through a health and diet change. As she got healthier, people asked to read about her journey, but she did not have a dedicated blog. Over Thanksgiving weekend 2012 the Fit and Awesome blog was born.
Lindsay started writing, went on The Whole 30 Challenge in January, and made a goal to write every day that month. Six months later, she had a website with a huge following.
SEO for Your Blog
If you type something into Google and hit search, all these different results come up. SEO, Lindsay explains, is the art of crafting your content, so it shows up in search via keywords.
Set your categories, based on your keywords. Some of the biggest keywords Lindsay ranks for are Whole Thirty, paleo, and gluten free. Her categories include Health, Fitness (with sub categories of different exercise), Awesome, Pets, and Mom. She has a one-year-old daughter. As her life has evolved, her blog has too.
Choosing a Keyword 
Lindsay walks us through the steps she takes to optimize a blog post, using her recipe for Stuffed Red Peppers Recipe as an example.
If you blog on WordPress, download the plugin Yoast for SEO. It will walk you through what you need to include to make sure your post is optimized.
The first step is to do your research. Go to Google AdWords and sign up for a free account. Then, go to the Google Keyword Planner to see what you may or may not be able to rank for.
Type in your keyword term. For example, "stuffed peppers." If the competition is low to medium, Lindsay says she knows she can rank for that keyword. If it's high, she might adjust the title til she finds one that is low to medium.
"Paleo" is a broad term, so it's not something she would want to try. However, "paleo stuffed peppers" is the keyword she ended up using.
Once you settle on the keyword, go back into your post and then weave the phrase into your content. Then, fill out the Yoast for SEO plugin.
How to Optimize Your Blog Post
Pick your keyword, and put it in the title, the meta description (which is what appears when the post shows up in search engines), and then make sure it's weaved through the post.
Word count should be at least 300 words, though Lindsay prefers 500. Since you want to aim for a keyword density of 3 to 5%, use the keyword five to seven times.
Also, insert at least one or two quality images in your post. Your focus keyword should be in the alt tag and in the image.
Why Use SEO
Using SEO for your blog is a great way to get traffic for your blog and/or your business. A blog adds a dynamic element, especially to a business website. When you get recognized or known for your blog, you can develop thought-leadership and expert status, as well.
Work/Life Balance
Lindsay loves her job, but enjoys family time, so needs to shut off at night. Finding time to workout is important to her, as is general downtime. Creative ideas come to her when she is not at her desk.
Personal Goal of the Week: Start with an hour a week of downtime (try and get up to an hour a day), and see how it helps your productivity.
Professional Goal of the Week: Get the keyword tool, and write a keyword-rich blog post, and see how it improves your site traffic.
Want to learn more about SEO for your blog? Listen to the entire interview on iTunes or Stitcher.
Watch the video:

The Guided Goals Podcast gives you the tools, direction, and resources you need to pursue your passion project. Thanks for tuning in.
Subscribe on iTunes, Stitcher or SoundCloud, and leave a review.
* * *
About Debra: A project catalyst, Debra Eckerling works with individuals and small businesses to create a strategy, set goals and manage their projects. Follow Debra @GuidedGoals, Like Guided Goals on Facebook, Subscribe to YouTube.