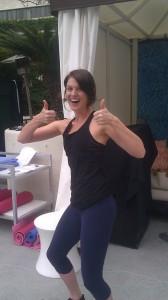 This Week's Goal: Exercise. One of the goals last month was to take a walk. And, while you should do that on a regular basis, starting a regular exercise regimen is another way to improve your health, clear your mind, and feel better about things in general.
Most gyms – and your local YMCA – offer a free trial, while some studios allow you to pay for one class at a time, before committing to a series. You can also go for a run, a bike ride, a swim. I know some people who change up their exercise regimen each month. Kickboxing one month, aerobics the next. I have been practicing Aikido, which I love, for more than four years. Last weekend, I added a yoga-cardio-fusion class to my summer routine. Kit Rich (pictured) teaches a free Saturday-morning class at The W in Westwood. It was fun and invigorating.
Once you decide what sort of exercise to explore, commit to doing it once or twice a week. Choose something that is manageable with your schedule … something you won't skip when something better comes along.
What exercise will you commit to this week?